BY MADELINE NELSON
The nation marks Black History Month in February, and what better way is there to celebrate than acknowledge the internationally iconic African-Americans who called, and in some cases still call, Queens home.
Here are just some of the notable African-Americans from our borough who've made a profound impact on our nation and world.
Al Roker, raised in St. Albans, is a 13-time Emmy-winning "Today Show" host and weatherman. Born in 1954, Al Roker went to the State University of New York at Oswego and studied communications. He worked for WNBC-TV in 1983 doing high-profile reports until joining "The Today Show" as an anchor in 1996. Roker has also hosted a morning show for The Weather Channel, founded a company and authored best-selling books.
Gwen Ifill was the "PBS Newshour" co-anchor and managing editor and the "Washington Week" editor and moderator. She is one of the most successful African-American journalists of all time, receiving a Peabody award for her work. She worked for The Washington Post and The New York Times before switching to broadcast news for NBC News and later PBS. Gwen reported on governmental affairs, ranging from national policy to international relations. She covered seven presidential campaigns and moderated two vice presidential debates, becoming the first black woman to moderate a vice presidential debate. She passed away from cancer complications in 2016.
Marie M. Daly, born and raised in Jamaica, is best known for being the first African-American woman to receive a Ph.D. in chemistry in the United States. In 1955, Daly worked closely with Dr. Quentin B. Deming on the causes of heart attacks. Their groundbreaking work found a link between diet and the health of the heart and the circulatory system. Daly died in 2003.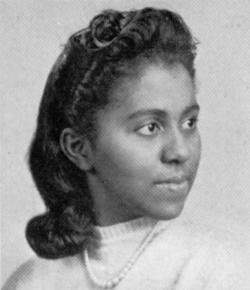 Russell Simmons, born in Hollis and still residing in Queens, is a drug dealer-turned-multimillionaire. He co-founded Def Jam Recordings and many other organizations under the Def Jam name. He has changed the face of hip-hop many times over at Def Jam. He led the rap-rock-pop crossover with Rubin on Run-DMC's "Walk this Way," co-produced the first gold-certified hip-hop single and album, and gave rap a global audience.
Reverend Run, birth name Joseph Simmons, is Simmons' brother. Simmons formed the pioneering rap group Run-DMC with Darryl "DMC" McDaniels and Jam Master Jay. In 1983, the group was one of the first to bring hip-hop onto mainstream radio and into mainstream culture. Their 1986 platinum-selling album "Raising Hell" changed hip-hop forever. The album featured the highly touted single, "Walk This Way," a rap version of Aerosmith's 1975 iconic hit of the same name. The song soared up the charts, and the band quickly became a household name.
Superstar rapper Nicki Minaj, birth name Onika Tanya Maraj, is the first and only female solo artist to have seven singles simultaneously on the Billboard 100 chart. She skyrocketed to fame with tracks like "Super Bass" in 2010 and "Anaconda" in 2014. Born in Trinidad and Tobago, she moved to South Jamaica as a toddler. She overcame a difficult childhood to become one of the most successful rappers ever.
Nas, otherwise known as Nasir Jones, made a huge impact in the early 1990s with Illmatic, widely regarded as one of the greatest, if not the greatest, rap albums of all time. He has sold 25 million records and has received worldwide praise for his many projects. He still hangs out in Queens and can be spotted on the St. John's University Queens Campus from time to time.
Curtis Jackson, known as 50 Cent, is a producer, director and former rapper from South Jamaica. His grandmother who raised him still resides in Hollis. 50 Cent rose to fame because of his street credibility as a musician and businessman. He became famous for his rags-to-riches life story. After an early life of crime, he turned to rap, rising to stardom with his 2003 album "Get Rich or Die Tryin'." After retiring from rap almost a decade ago, 50 Cent invested in many businesses and began his acting and production careers. He currently produces and stars in the insanely popular TV show "Power."
Louis Armstrong was born in 1901 in New Orleans but lived in Queens for almost three decades. He came to prominence in the 1920s, influencing countless musicians with both his daring trumpet style and unique vocals. Armstrong and his wife Lucille moved to a home in Corona for retirement. Armstrong's stage presence impressed not only the jazz world but the global music industry. He recorded several songs throughout his career, including "What a Wonderful World." Armstrong died at his home in 1971.
Armstrong's home in Corona was reverted to a museum and New York City landmark after the death of his wife Lucille. If you'd like to visit the Louis Armstrong House, it is open Tuesday through Friday from 10 a.m. to 5 p.m. It's open from noon to 5 p.m. on the weekends.
* * *
Three particularly notable individuals in American history resided in Addisleigh Park. Originally built by white developers and having race-based housing restrictions, African-Americans who wanted to live in Addisleigh Park sued the developers. Through litigation, they were able to buy homes in the community and quickly moved in.
Among Addisleigh Park's most famous residents was Ella Fitzgerald, who was born in Queens. In 1958, Fitzgerald made history as the first African-American woman to win a Grammy Award. The singer would go on to win 13 Grammys and sell more than 40 million albums. Fitzgerald recorded more than 200 albums and 2,000 songs in her lifetime. Her total record sales exceeded 40 million, which would be worth hundreds of million today. She also won the Presidential Medal of Freedom. Fitzgerald passed away from a stroke and diabetes complications in 1996.
Jackie Robinson, who also resided in Addisleigh Park, became the first black athlete to play Major League Baseball when he took the field for the Brooklyn Dodgers in 1947. Throughout his decade-long career, Robinson distinguished himself as one of the game's most talented and exciting players. He was also a vocal civil rights activist. He died in Connecticut in 1972 from heart problems and diabetes complications.
Finally, psychologist, scholar and activist W.E.B. DuBois resided in the historic district after moving out of Harlem toward the end of the Harlem Renaissance. DuBois co-founded the National Association for the Advancement of Colored People (NAACP) in 1909, the central organization responsible for the Civil Rights Movement. Before moving to New York, DuBois lived in Massachusetts where he received his secondary education before attending Fisk and Harvard Universities respectively. In 1895, he became the first African-American to earn a Ph.D. from Harvard. DuBois wrote the first scholarly study on the African-American community and was the best-known spokesperson for African-American rights for almost 50 years. DuBois died in Ghana in 1963 while researching pan-Africanism.