Flushing resident Sterling Hsuih was proud and honored to represent the "melting pot of Queens" at the 2019 Miss Teen New York USA Pageant on Jan. 20.  
The 15-year-old beauty contestant of African-American, Chinese and Vietnamese descent participated in the pageant becoming a state finalist in the top 17 and receiving an award for Miss Photogenic. 
"I was excited to be in the pageant and was titled Queens Teen as the area I represent," said Hsuih. "I thought it was a simple beauty pageant. However, there were so many teens who were not only beautiful but intelligent and charitable."
Hsuih competed with 120 other girls for the crown of Miss Teen New York USA. She entered the competition with her sister, Diamond Hsuih, 19,  who became a state finalist for Miss New York USA.
"When I heard my name called as a top 17 finalist, I could not believe my fortune!" said Hsuih, who began prepping for pageant in September.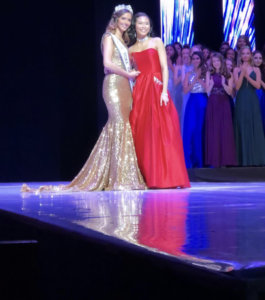 It's a first for Hsuih competing in a pageant, and her parents believed it would be a good experience to get her out of her comfort zone.
Hsuih, who is currently a sophomore on the cheerleading and stunt team at Brooklyn Tech High School, is also a former gymnast.
Hsuih's mother, Hong Buist, said her stunt practice helped with keeping her body toned for the fitness segment in the pageant.
"I helped Sterling practice her interview and speech skills, as well as presentation of her evening dress," said Buist. "Both her father and I told her to do her best and learn from the experience to build her self confidence."
Buist added, "I'm proud of Sterling for going through this experience and facing her fears on stage. I am excited at the opportunities opened to her. She had a lot of fun meeting other girls, who volunteer in one form or another to do something for the community. It's not like based on just your looks, but also your intelligence and how you contribute to the community."
For the past two summers Hsuih has been volunteering as a tutor at a Korean Flushing church, Hyo Shin Academy, helping students with English and Math.
"Right now I will be concentrating on my studies and use this platform to get involved in more charitable organizations empowering young girls like myself to be proactive and explore more of their world," said Hsuih.