City and state lawmakers joined Congresswoman Grace Meng, Attorney General Letitia James, Queens Borough President Donovan Richards and District Attorney Melinda Katz to pay their final respects to Sylvia Weprin, who died peacefully in her sleep on Oct. 26 at the age of 92.
She was married to former state Assembly Speaker Saul Weprin and mother to three sons, including Assemblyman David Weprin and former Assemblyman Mark Weprin, who spoke at her funeral at Schwartz Brothers-Jeffer Memorial Chapels in Forest Hills on Oct. 28. He recalled her toughness as an 8-year-old immigrant from Cuba arriving in the United States in 1938.
"Getting on a boat and coming to a new country, my mom didn't know why she was coming. She thought she was coming to visit relatives," he said. "She only spoke Spanish, not a single word of English. Kids can be cruel and she'd get picked on. One day four or five, boys were picking on her so she went up to the biggest kid and punched him in the nose. They stopped picking on her."
He said she had a teacher in the fourth grade that would teach her English after school.
"It made such an impression on my mother that she became a teacher herself," he said.
After graduating from Brooklyn College, she taught biology in English and Spanish for three decades, before retiring in 1991 so she could join her husband in Albany.
"She chose to forego her teaching career to be the wife of the speaker, moving to be by his side, not just for companionship, but truly for a profound partnership," David Weprin said.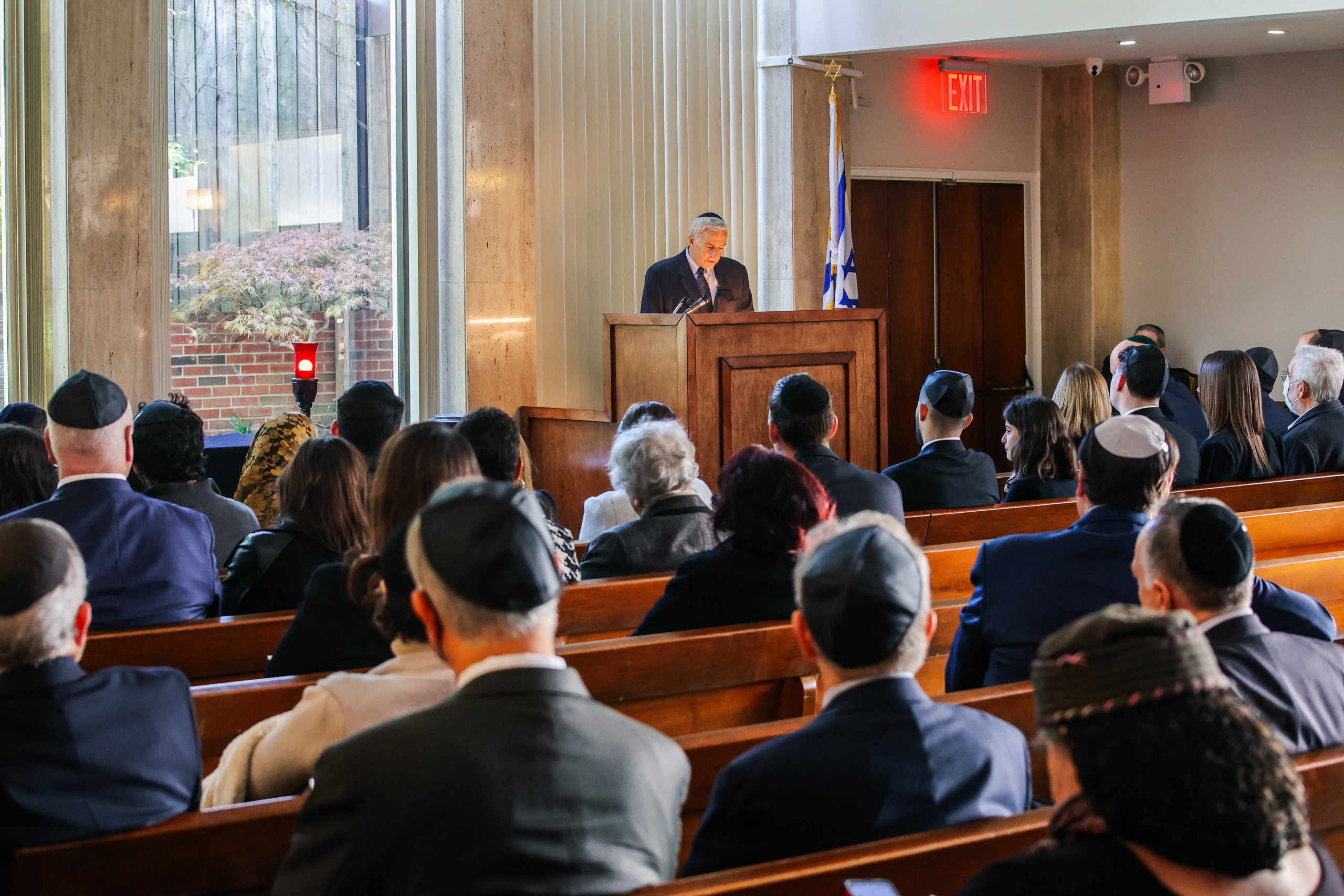 He told of his parents traveling to Mackinac Island in Michigan for a national speakers conference where his mother was holding court at the pool.
"Someone approached my father and asked, 'What's going on here?' He answered, 'This is the National Speakers Conference and I am the speaker of the great state of New York.' The fellow then asked my father, 'Who is that woman?' pointing to my mother. 'She's my wife,' he said, to which the man asked, 'If you're the speaker, why's she doing all the talking?'" Weprin said. 
She served on Community Board 8 and on the boards of the Queens Symphony Orchestra and Queens Botanical Gardens.
Her son Barry spoke of her life after Saul Weprin passed away in 1994. She later married Martin Feinstein, who she met at Hillcrest Jewish Center, and they lived in Fresh Meadows for 10 years until he died. She resettled in North Shore Towers, a naturally occurring retirement community where she frequented the restaurants, often chatting in Spanish with the employees.
"Sylvia really thrived at North Shore Towers. She made a whole new group of friends there," he said. "But the pandemic was very hard on her. Most of her friends at North Shore Towers either passed away or moved away. We were grateful that in the end she died peacefully in her sleep and I'm grateful for all of you who came to honor her today."
Comptroller Tom DiNapoli spoke of his time with her, often serving as an escort to political events after the speaker passed away. He became known as her fourth son, DiNapoli recalled fondly.
"She didn't suffer fools or foolishness very well, but she was usually diplomatic enough to say how she felt in hushed tones, you'd get that whisper in your ear," DiNapoli said. "She was very polite, unless of course when some rival or a disgruntled colleague would give Saul a hard time or say something critical of him. Then she didn't hold back and the offending party got a cold stare or worse, a not-so-subtle comment loud enough to be heard quite clearly by anyone who was nearby. When Saul became speaker, she was not just the speaker's wife; she was his political partner and a great asset to him."